City of Munich Innovation Challenge
With this competition the city government is seeking innovative solutions and is providing the opportunity to test new concepts in a real urban environment.
Who has the best ideas for the city?

The City of Munich's Innovation Challenge is an invitation to submit innovative ideas to solve specific challenges the city is facing. The aim is to co-develop smart city solutions that will prove their value when put to the test.
The Innovation Challenge has been held annually since 2018 and is aimed at interested parties from among the startup community, students, entrepreneurs, and other creative minds who wish to develop and realize viable, innovative solutions to the challenges presented.
This year, the City of Munich is seeking potential solutions to five exciting challenges. You can apply for one or more challenges.
The application deadline for 2023 has expired. The next innovation challenge will take place in 2024. New topics will be announced in spring 2024. Would you like to be notified as soon as the new call for applications is launched? Then please leave your contact details here.
Our challenges for 2023
How can we use suitable digital tools (apps, simulations, digital services, AR, VR, etc.) to help land and property owners better understand the impact that various ways of designing their properties and dealing with rainwater can have, so as to motivate them to take a more climate-friendly approach to the issue (regarding drainage, storage, evaporation)?
For historical reasons, rainwater that accrues in central areas of Munich, as in many other cities, enters the drainage system and is removed. This means it is no longer available for groundwater formation, irrigation or evaporation. The cooling effect that water produces when evaporating from natural green spaces is lost and the sun's heating effect increases. The increase in the number of hot days due to climate change means this poses greater risk to the city population.
For this reason, we want to promote more climate-resilient urban development and greater use of the sponge city concept. The latter refers to the practice of storing, evaporating, and draining rainwater in as local and environmentally friendly a way as possible. The aim is to disrupt the natural water cycle as little as possible or even restore it. In contrast to streets and public spaces, the city authorities have little influence over practices on private land and property.
Our aim is to help property owners better understand the micro-climatic effects the different ways of dealing with rainwater can have, thus motivating them to take a more climate-friendly approach to the issue on both existing and new properties. We are looking for innovative strategies that go beyond traditional media such as brochures, flyers, and films.
How can an existing services and care network for senior citizens be digitally supported so that participating service providers are connected in a straightforward manner and their clients given access to appropriate services?
People living in difficult social circumstances are more likely to suffer health problems. Particularly among the elderly, difficult circumstances and loneliness can undermine health. The risk is that senior citizens no longer participate in social life and become very isolated.
Appropriate healthcare can help overcome these inequalities. Individual city districts, thanks to their manageable size, are ideal places to reach people with such services. In Neuperlach's Preventive Network for Senior Citizens (Präventionsnetz im Alter, PiA) stakeholders from healthcare, social work, and education cooperate to offer existing services to clients or develop new services. The network is unique in Germany.
Mrs Maier, aged 78, lives in a high-rise apartment block and has mobility problems. She has been widowed for six months and is very lonely. Since her husband died she has lost her appetite and does not drink enough. Mrs Maier's doctor, the only person she's in regular contact with, has noticed various health problems: Mrs Maier is weak, tired, and apathetic. She constantly promises to organize help for herself, but fails to do so.
Mrs Maier needs assistance with many things (e.g. visiting the cafe for grieving people, eating in social centers or centers for senior citizens, or accompanied walks to maintain fitness). Cooperation with partners or passing on client details in the network is currently a completely analog process. But doctors, in particular, lack the time and means to pass on relevant information in an analog way and establish networks with local stakeholders. What is sought is a digital solution to make it easier for participants to connect with each other.
The following functionalities have been proposed (though additional or alternative suggestions are also welcome).
Connecting clients with services: Participating organizations should be able to connect clients quickly and easily with all the network's essential services and/or notify the network management to jointly identify requirements.
Boosting cooperation among partners: Partners should be able to discover what services are available and develop new services. Private service providers and the network can contact each other when clients need help.
Case management: In cases where clients are looked after by several partners there should be a case file to facilitate the sharing of relevant information among the parties involved.
Possible future development: Modules for clients: They should have digital access to the proposed solution and also be able to use it to communicate (e.g. to make appointments and have digital consultations, chat, informal coffee hour).
As some highly sensitive personal data will be transmitted, it is essential to give data protection full consideration.
We are looking for a scalable solution that can be piloted in Neuperlach and then transferred to other district networks. Thanks to the Creating NEBourhoods Together (NEB) project, Neuperlach is also home to a diverse range of startups with whom synergies are possible.
How can the City of Munich use innovative digital elements (e.g. ChatGPT) to digitally expand, individualize and shed new light on selected places in Munich? How can these innovations improve the city government's online services?
The places in question may be Points of Interest (POI), former or future buildings or spaces, sites of historical interest, as well as "secret places" that are normally hidden to observers. Gaming and interactive elements, as well as questions about the locations, could be used in connection with an AI-based information source such as ChatGPT, to generate interesting knowledge, integrate artistic elements, or tell stories. There is plenty of room for creative ideas to make places more attractive.
The aim is to give both residents and visitors barrier-free access to useful information they need. The city wishes to gather this information in one place and use the city's official geodata to integrate it in one application. The application, which could take the form of, for example, a smartphone app, should be able to draw on information from official websites (e.g. events, opening hours, history, etc.) in search engine results and social media, and also feature a chatbot function (text and speech) so that users can interactively look for information about a specific place.
The information should be presented in a way that is tailored to the individual interests and preferences of users, though it is essential that it also complies with General Data Protection Regulation (GDPR) requirements. Integration in existing City of Munich services, in particular the GeoPortal as a map-client based on the Masterportal (see masterportal.org ) should be possible, as well as transferability to the entire City of Munich region.
For this purpose, expert dialog and close cooperation with the respective City of Munich departments is desired and guaranteed by the city government.
In an additional step the aim is to evaluate the technology and results with respect to, above all, quality, relevance, trustworthiness, potential, opportunities, and risks.
How can the City of Munich monitor the existing ban on diesel vehicles in the "green zone" in a digital and resource-friendly way?
As part of its efforts to improve air quality in the city, the City of Munich has introduced a ban on diesel vehicles in a designated "green zone" within the city's main ring road, the "Mittlerer Ring". The ban came into force on February 1, 2023. The aim is to permanently cut traffic-related emissions and air pollution.
To ensure the ban is properly implemented and thus a success, a digital and resource-friendly solution to monitor all vehicles in the designated zone is needed. In individual cases it needs to be determined whether a specific vehicle has been granted an exception or is violating the ban. The technology must be able to record vehicle details and pass them on to the Department of Public Order (KVR).
It will be possible to test innovative approaches in certain districts as part of the Innovation Challenge, with the aim of possibly later expanding coverage to the City of Munich's entire green zone.
How can the City of Munich, as part of a sustainable and socially just development of the inner city, achieve automated identification of both synergies and conflicts of interest relating to various projects and plans with different focus points?
Various city departments with diverse focuses, concepts, and aims, are involved in the sustainable and socially just development of Munich's inner city. Due to various interest groups, diverse conflicts of interest and/or synergies may arise both within (e.g. bikes vs cars in the area of mobility) and between certain topics (e.g. environmental protection vs local recreation) and either elude discovery or remain unutilized.
The city government is thus seeking a tool that can aid and simplify working processes by promoting effective and inter-connected cooperation among the various city departments involved in inner-city development. An important element of this tool would be to use innovative IT methods to enable automated identification of synergies and conflicts of interests by drawing on various data (sources). Potential data (sources) include resolutions or requests made by the City Council or District Committees.
The Innovation Award
The Innovation Award honors the proposed solutions with the greatest potential for realization. Each winning team receives 10,000 euros.
The winners also get the chance to work with the city government to further develop their ideas and put them to the test. A further 15,000 euros are available for specific requirements during this co-creation phase. Please read the terms and conditions for the requirements.
It's worth taking part! All finalists selected to present their ideas to the jury are awarded 1,000 euros in honor of their participation as well as a free ticket for the Munich Startup Festival .
Application deadline and process
The Innovation Challenge consists of a contest and an implementation phase.
The contest phase
Application deadline: Monday, May 15, 2023 at 11:59 p.m.
Announcement of finalists: mid-June 2023
Jury meeting with finalists' pitches: Thursday, July 6, 2023
Awards ceremony: Tuesday, July 18, 2023 at the Munich Urban Colab
When the application period ends, the most convincing proposals for each challenge will be selected. The finalists will be invited to present their proposals in person to an expert jury comprising management-level representatives from the participating city departments as well as to various entrepreneurship centers. The jury will then select the most promising proposal in each category, which will receive the Innovation Award.
Applications can be submitted in German or English. The presentation to the jury should be made in German and German is planned as the working language during the implementation phase.
The implementation phase
Start of the co-creation phase: Fall 2023
Duration: 3 to 6 months, to be agreed between the winning team and the respective department.
When the co-creation phase ends, the winners are warmly invited to present the results at the Munich Urban Colab as part of an event organized by the City of Munich.
How do I benefit by participating?

The winning teams receive the City of Munich's Innovation Award, worth 10,000 euros. Deputy Mayor Katrin Habenschaden, the contest's patron, will honor the winners at an official ceremony attended by the media.
The winning proposals will also be further developed and tested in the city. An additionasl 15,000 euros per challenge are available for this purpose.
The award winners will gain access to the city government departments and to information and data to help them realize their ideas. They benefit from a network made up of city departments, startup support and entrepreneurship programs, as well as coaching and dialog with a diverse range of experts. Fresh insights and a rewarding learning experience are guaranteed!
Various entrepreneurship centers collaborate with the city government as part of the Innovation Challenge. These cooperation partners can advise the award winners on their ideas and business model, as well as offering direct access to individual forms of support. If the winners are interested in one of the entrepreneurship programs, such as XPRENEURS, the Start-up Certificate or founders@unibw, they will receive a recommendation for their application.
The winners also have the chance to take part in pitching and networking events run by partner entrepreneurship centers, where they can present the results of their winning projects and connect with investors, company representatives and other stakeholders from the startup community.
When the implementation phase is completed, the winning teams can boast a reference project with Germany's largest municipality, which they can use to further promote their work.
And, of course, the contest means winning teams help to improve their local environment and make Munich a more innovative and progressive city.
Previous winners
The following teams won the awards in 2023:
Topic: "Healthy senior citizens: "Digitalize a service and care network", winner: Helferportal GmbH & Co. KG
Topic: "Expand places in Munich with digital innovations", winner: Team Puppet
Topic: "Digital monitoring of Munich's Diesel-free zone", winner: Transcality AG
Topic: "Text and the City - text mining in city development ", winner: Legal-Pythia LLP
More information (in German).
The following teams won the award in 2022:
Winner of the challenge "Raising awareness of climate change": Cityscaper GmbH
Winner of the challenge "Development of a cemetery app": CI Cloud Item GmbH and proband15 GmbH
Here you can find more information on the projects and the all the award winners from 2022.
The following teams won the award in 2021:
Topic: "Pilot project for digital NO2 measurements" - Winner: Hawa Dawa GmbH
Topic: "FlexiblesArbeiten@LHM (flexible work at the City of Munich) "- Winner: klink – Digitale Services unter dem Dach der Isarwatt
Topic: "Emission-free mobility in Munich" - Winner: Plan4Better GmbH
Topic: "Improved data on stationary and moving traffic" - Winner: LiangDao GmbH
More information (in German)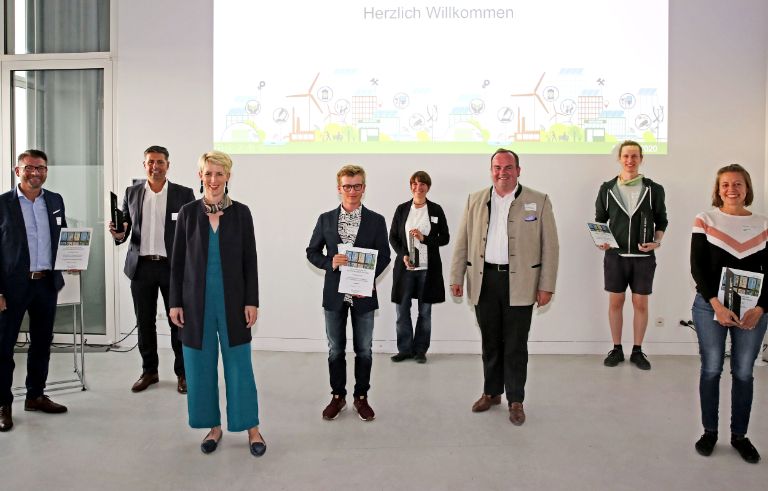 The following teams won the awards in 2020:
Topic: "Blockchain – problem-solving technology for the municipal administration?", Winner: Avaya Happiness Index
Topic: "Pre-clinic patient management using reliable preliminary assessment", Winner: medSNS
Topic: "Gamification – game-based motivation of municipal employees to adopt energy-saving behavior at work", Winner: Earth Is Sexy
Topic: "Climate Neutral Munich 2030/2035", Preisträger: Twostay
The following teams won the award in 2019:
Topic: Waste avoidance in Munich's schools, winner: upride (formerly bike|solutions )
Topic: Weekly digital market – Penetrating new target groups, winner Digitaler Wochenmarkt München
Topic: Self-generating calendar of cultural events for urban districts, winner: Neighbor
Our cooperation partners

Five entrepreneurship centers are involved in the implementation phase and offer tailored support to the award winners. Depending on specific needs and suitability, this can range from coaching or topic-based workshops to participation in an entrepreneurship program. You can find information on the services on the centers' respective websites:
Any questions? Drop us a line!
All interested parties have the opportunity to contact the respective contact persons. There will not be a central information event.
General questions about the competition:
Department of Labor and Economic Development
innovationswettbewerb.raw@muenchen.de or
Frieke Meijer-Schepman,
phone +49 (0)89 / 233 25461
f.meijer-schepman@muenchen.de